I'm excited to show you a new addition to my studio – a ribbon organizer.  Clip it Up was a new  exhibiting company at the Houston Quilt Market and Festival last month.  They had a supper display in their booth of wonderful organizers for ribbons, scrapbook supplies and just about anything you have in your stash!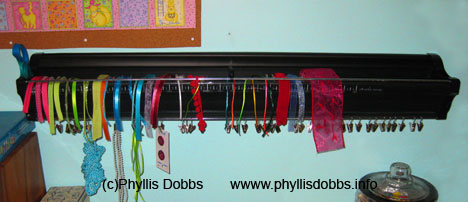 I loved all of the organizers, but especially fell in love with the Ribbon Organizer.  I chose the one that is 36″ long.  It has 40 clips to hang remnants below the organizer and has storage on each end to hold scissors. It also comes with a tape measure decal that applies to the organizer for easy hands free measuring.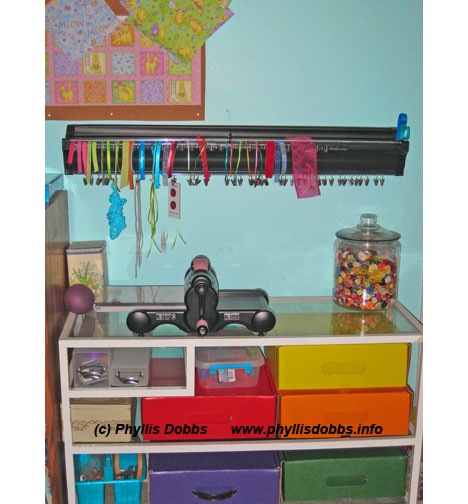 I hung the ribbon organizer over this table in my sewing area, behind my sewing machine, so that the ribbons and trims will be in easy view and reach.  I have boxes of ribbons, but only put my favorite ones in the organizer.  I didn't fill it up so that I will have space for new ribbons that I have my eyes on for immediate purchase.  You may also notice my Sizzix Big Shot die cutting machine.  I have it close as well for cutting fabric dies for applique as well as paper cuts.  I love color so I have color coded boxes to hold supplies.  (I can't remember numbers, but I can definitely associate colors with the contents of each box.)  And I also keep my button stash close at hand in a huge jar that is not nearly big enough.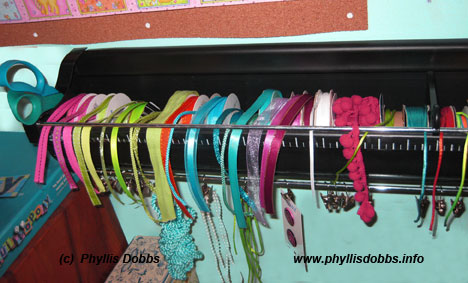 I love attending Quilt Market and look forward to the Spring Market.  There are always fabulous finds at each show and I am treasuring my ribbon organizer.
Enjoy and display your stash!
Phyllis
PS, I just found out this news after emailing ClipItUp to let them know that I loved the ribbon organizer and blogged about it.  It will be on sale the weekend after Thanksgiving Nov 27-30 for almost half price!