"Kick up Your Heels!" is the basis of a new collection in my Zazzle store.  The images have a choice of a white, yellow or green background and have a wimsy border and are shown on products ranging from stationery, invitations, aprons, mugs, clothing and many more. Support the attitude and enjoy life with a little kick of the heels!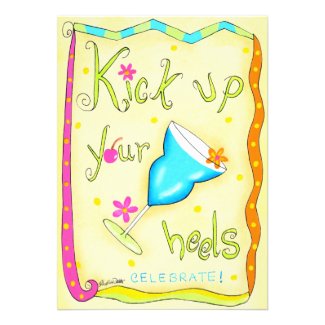 Kick up Your Heels Invitation Yellow
by
phyllisdobbs
Design your own invites
using zazzle
The back of the invitation is fully customizable so that you can put your information on it.
When I look at this invitation, I see a girls night out! But its all perfect for everyday as well to show a sassy attitude. Why not "Kick Up Your Heels" while doing housework!
I invite you to take a look at these products and kick up YOUR heels!
Phyllis