I'm always flattered when someone contacts me about my art or fabrics. I was especially delighted when a new quilt shop contacted me about using my Quilt Art for their store signs. Jody Winn, the owner of  "A Winn-ing Quilt Shop, LLC", contacted me prior to the opening of her new quilt shop.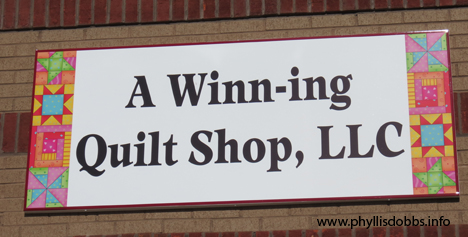 A Winn-ing Quilt Shop, LLC, opened on July 3, is located at 1002 Diamond Ridge, Ste. 1050, Jefferson City, MO, 65109. I hope if you are in the area you will stop by and check out her great selection of fabrics and notions! Jody found my art on products in my Zazzle store and wanted to coordinate everything with my art and business products for her store. Jefferson City looks like its about half way between Kansas City and St. Louis. These cities are frequent locations for the Spring International Quilt Market so maybe I will be able to visit Jody's shop some day.
The above sign is on the building above her store. The sign below is on the store window. And if you are driving around in Jefferson City, you may also spot a similiar sign on her car door.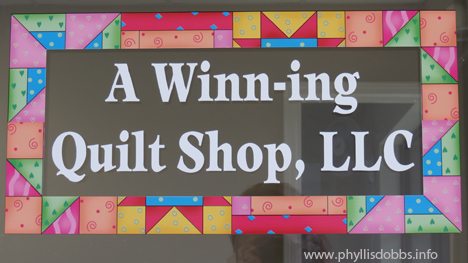 My quilt art is also being made into a fabric collection, titled "Xanadu", and is due out soon. I will post more information when it's ready for shipping.
Meanwhile, I have been adding more products made with my Quilt Art to my online Zazzle stores. My main store, PhyllisDobbs, has lots of products with colorful quilt designs in assorted color combinations, including business cards, smart phone and tablet cases, return address labels, mugs and much, much more for the quilt lover. I also have a business store, BusinessWithFlair, that concentrates on business related products designed for any quilt business. I hope you will check them out.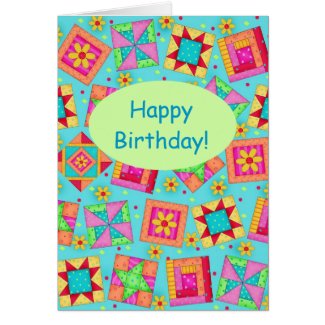 Turquoise Patchwork Quilt Block Art Happy Birthday Card
by
phyllisdobbs
Check out Original quilt Cards online at
zazzle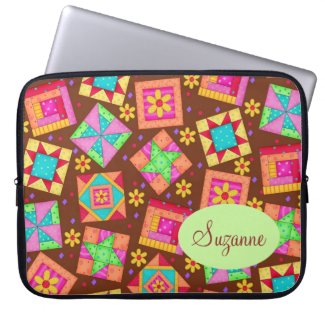 Chocolate Brown Patchwork Quilt Art Blocks Laptop Sleeves
by
phyllisdobbs
Look at Original quilt Laptop Sleeves online at
Zazzle.com
I wish Jody a big, huge success with "A Winn-ing Quilt Shop, LLC".
Phyllis