My new fabric collection "Celebrate" from Quilting Treasures is out!  Yea! I'm so excited! The bright colors and cakes and cupcakes are perfect for boys and girls of all ages through at least 120 for birthdays celebrations. I loved playing with the fabrics and designing these free quilt and sewing patterns for you to use! After a previous sneak peek, here is the entire "Celebrate" collection –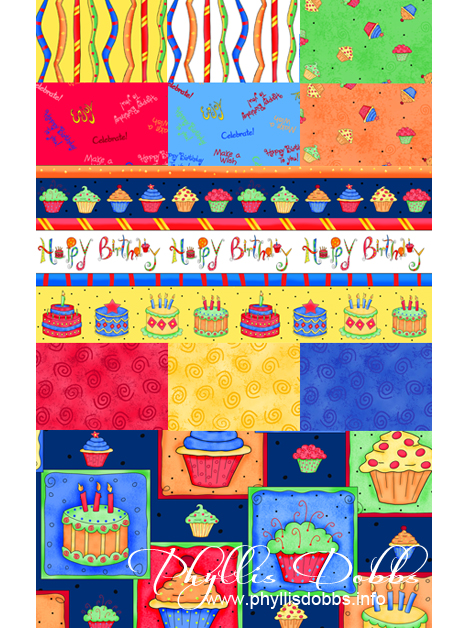 The project sheets for a quilted table topper, placemat, large gift bag and a happy birthday banner are available for free pattern download from Quilting Treasures' website. Just scroll down and you will easily see them with their bright colors.
The quilted table topper measures 48″ x 48″ and will add a festive accent for birthday celebrations. All you need is a real cake for a perfect centerpiece! And of course, a pile of presents!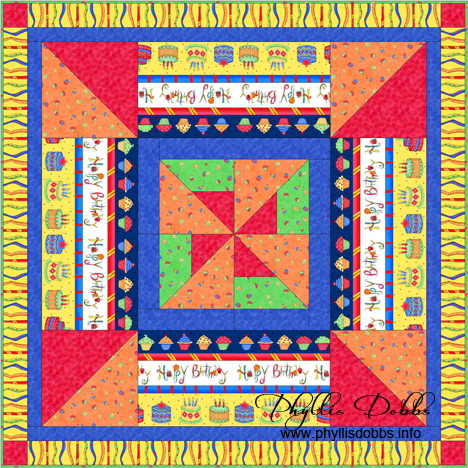 Another way to add a splash for a special birthday is with a placemat, sized 18 1/2″ x 13″. The yellow fabric on the right is a pocket to hold silverware or even better, a surprise gift or candy. The old saying is that a small present holds the best gift, like maybe a key to a car!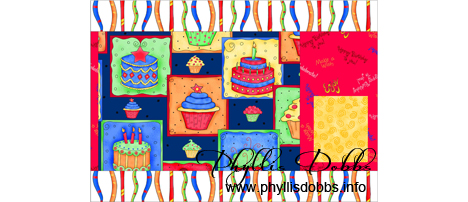 And for a larger gifts, you can make this large gift bag with a drawstring opening. Think of all the gifts this bag will hold. Its 30″ high and 20″ wide.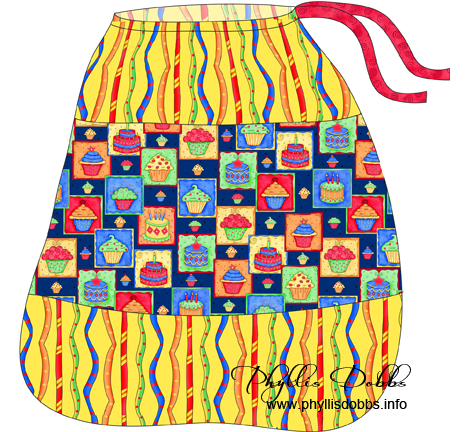 And nothing announces a birthday better or makes someone feel more special than a banner. This Happy Birthday banner is 28″ wide and 35 1/2″ tall, with red triangle points at the bottom edge.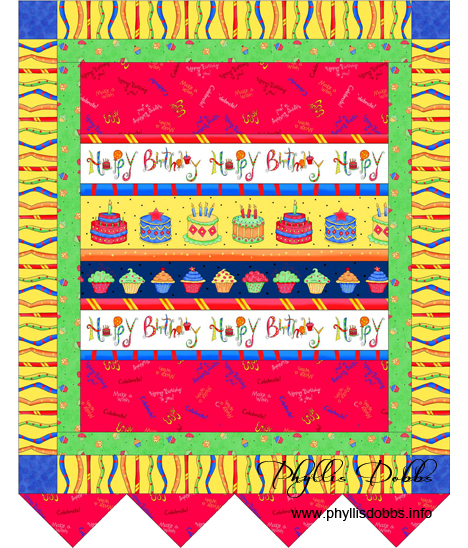 Enjoy these fun projects and give them a try to use for many years of birthday celebrations. If you have a hard time choosing which one to make, make them all. They are easy to make. And I would love to see your finished projects!!
I have also designed another project, a small banner that I created for display at the Spring Quilt Market. I just have to finish writing the instructions and then I will post it here for another free pattern.
And while you are thinking of that perfect birthday event, please check out all the products I created in my Zazzle store using the "Celebrate" art to coordinate with the fabrics. I'm adding more products daily.
Have a fun day of quilting and sewing. And Happy Birthday to you on your special day!
Phyllis