Don't you love surprises!  Receiving a new book is always wonderful but this one has 3 quilt projects of mine in it.  5-10-15 + Fat Quarters, published by House of White Birches is a beautiful book filled with projects that you can complete with pre-cut fabric bundles.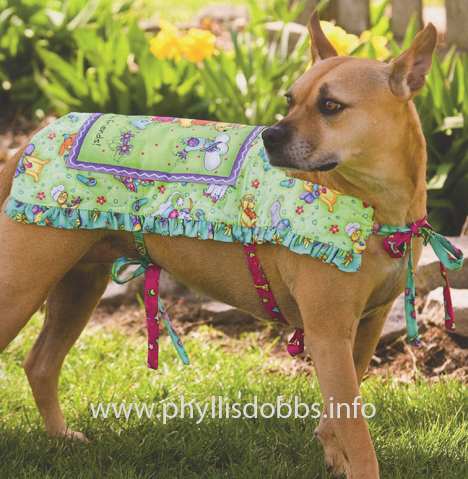 Now, wouldn't you just love to make this dog coat for your dog?  It's made with "It's A Dog's Life" fabrics I designed for VIP by Cranston Printworks. (Just a note to tell you that some fabrics of this collection are in some Walmart stores as precuts). The pattern is easy to make so you can have the best dressed dog in the neighborhood.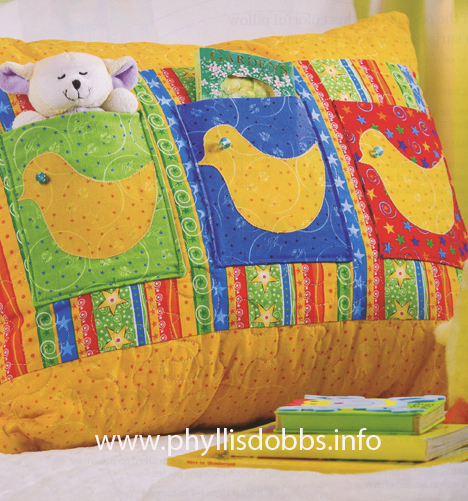 OK, now that your dog is dressed, you can move onto making a cozy quilted pillow for a favorite child or each of your favorite children, since I'm sure you have more than one. This "chick pillow" is made with a full size pillow so it will fit nicely on a bed. Three pockets to hold little treasures are appliqued with a chick on each pocket. Can't you just imagine the surprises that can be tucked away in these pockets for safekeeping until the next morning! (no snakes or snails I hope!)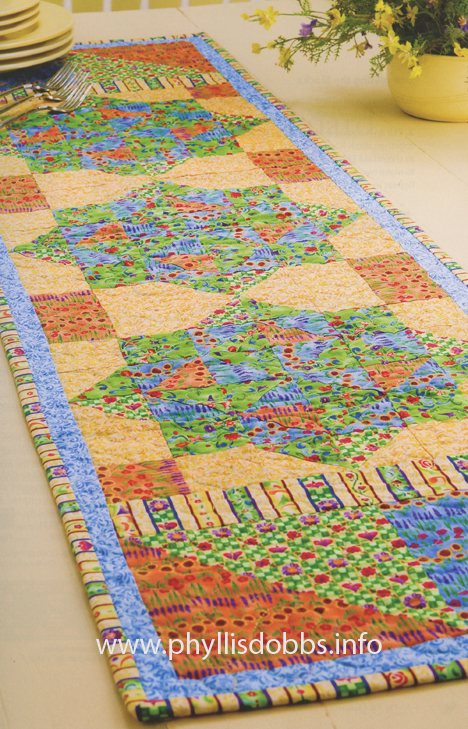 Now its time to move onto some serious quilting and make a table runner for yourself or as a gift. A "Warm Breeze" tablerunner is made with Jim Shore's Angel Among Us fabrics by Quilting Treasures. I had the good luck to meet Jim Shore a couple of months ago (see my prior post).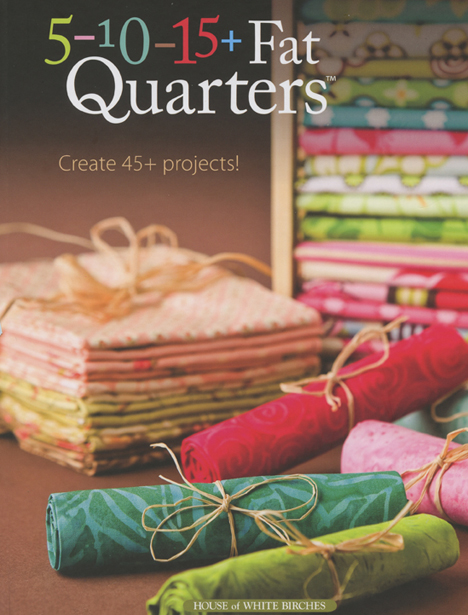 Since you have now had a few days of sewing and quilting, take a break, eat some ice cream!
I hope you enjoyed looking at these quilt pictures and I would love to see any that you make with these patterns.  Check out the book and you will be delighted as I was with all the fun projects made with precut 5″ charms, 10″ squares and fat quarters.
Happy sewing!
Phyllis