I'm excited to give you a sneak peak at my newest fabric collection "Celebrate" from Quilting Treasures, filled with cakes and cupcakes. It will be available for shipping to stores in June 2012. As you can see, the colors are bright primary colors that are perfect for both boys and girls. The designs are also great for all ages, from kids to adults, after all, you never get too old to celebrate! It was really fun creating these designs but it did activate my sweet tooth! Fortunately, all the cakes and cupcakes were created with paint so no calories!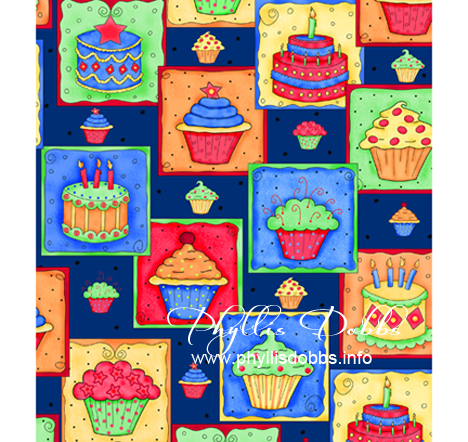 This design is the main design of a patch panel. Other fabrics in the "Celebrate" collection will include lots of fun designs and stripes all in bright "celebration" colors and all coordinated for delightful quilting and sewing projects. Think of a celebration or birthday quilt, or a banner or table runner for a birthday party.  There will be several free patterns available from Quilting Treasures when the fabric is in. Plus, I will create some patterns to post here on my blog for free download – I already have several ideas formed and just waiting to sew them. I just love designing patterns to go with my fabrics.
I can't wait to show you all the fabrics when they are out!  And it won't be long – I can't believe June is so close already!  Meanwhile, I've been working away on the next fabric collection and am just as excited about it! Its still on the drawing board, but I'm loving it.
So please check back for fun fabrics and lots of free patterns and think cake and cupcakes. And here's to a little celebration in your life each day.
Phyllis