Fall International Quilt Market is almost here! I love Quilt Market and am looking forward to the trip to Houston next week. And I'm especially excited because I have a new fabric collection debuting with Quilting Treasures and wanted to give you a sneak peak at them. "Bee Yourself" features 12 blocks of happy "bee-isms" along with coordinating fabrics.
When I started designing a fabric collection all about bees, the first thing I thought of after I got past the fuzzy bee itself was "Quilting Bee" and then "Sewing Bee". After these popped into my head, it formed the whole concept of the collection. I thought of many more bees to incorporate as I created the illustrations for the blocks, including "Honey Bee", "Worker Bee", "Spelling Bee", "Queen Bee", "Bee in a Bonnet", "Fashion Bee", "Just Bee Cause", "Busy Bee", "Bee Mine", and the title bee, "Bee Yourself". In "beeing" yourself, you can be any bee you want to be.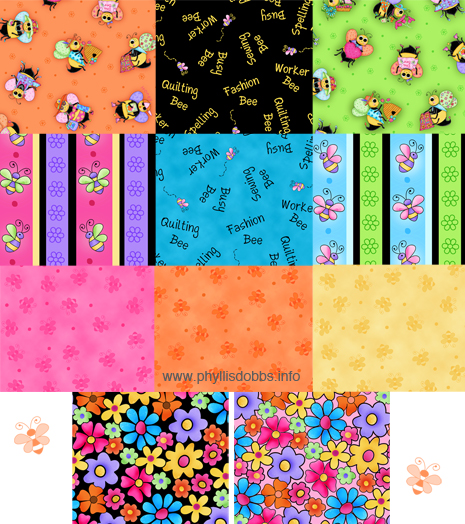 It was really fun to create all these bees. The ideas just kept coming and I have an almost endless list of more "bees". My brother and sister-in-law jumped in with suggestions of their favorite bee-isms. I am thrilled with how the collection turned out and am now sewing and quilting several bee projects for Quilt Market.
The fabrics will be ready to ship to the stores in December, a good time to snuggle up with a sewing or quilting bee and become a busy bee during the cold weather. (Ok, I quit with the bee-isms!)
I will be posting some free patterns here shortly with fun ways to use "Bee Yourself". Quilting Treasures will also have some free project patterns available on their website when the fabrics are out. I will update you when all the patterns are available.

If you are attending Quilt Market, which is open to the trade only, I want to invite you to attend my Schoolhouse event on Saturday afternoon at 4:55 in room 362D. I will be presenting some great ideas and there will be a free gift for everyone. I hope to see some of you there.
I will also be in Gutermann of America's booth (#537) a bunch of the time and would love to meet you so please stop by. Some "Bee Yourself" projects will be in their booth as well as in Quilting Treasures' booth (#1056).
Have a great day and "bee yourself"!
Phyllis