In part two of my photos from the Spring International Quilt Market held in Minneapolis, I want to show you some of the beautiful quilts displayed. Sometimes a picture doesn't provide the detail that makes the quilt so spectacular so I took some close up detail photos that I'm showing with the quilt photo.
This quilt, "Happy" is by Robbi Joy Eklow of Third Lake, Illinois and used the technique of raw-edged fused appliqué and free motion quilting. In this quilt, she combined the purple, green, and orange rings with giant flowers from another quilt that she had not finished.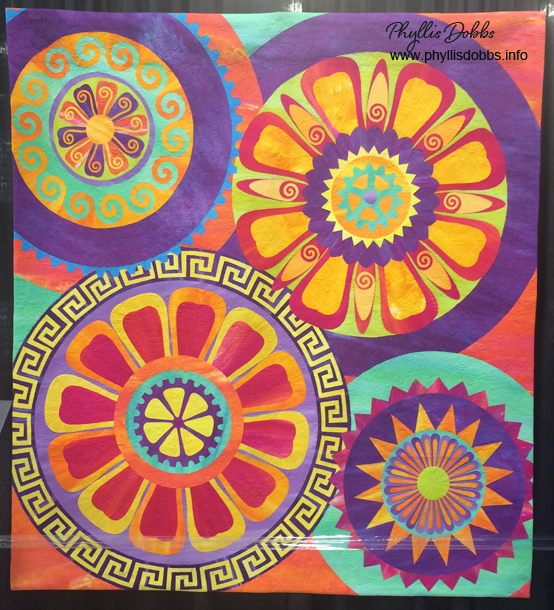 Wild horses inspired this quilt "One Fine Day" by Laurie Britt Piper of Bakersfield, CA.  The technique used was raw-edged appliquéd, fused and painted.  On a road trip through Utah, Colorado and Idaho, she had to stop in the middle of the highway to let a group of wild horses pass and turned that moment into inspiration for a quilt.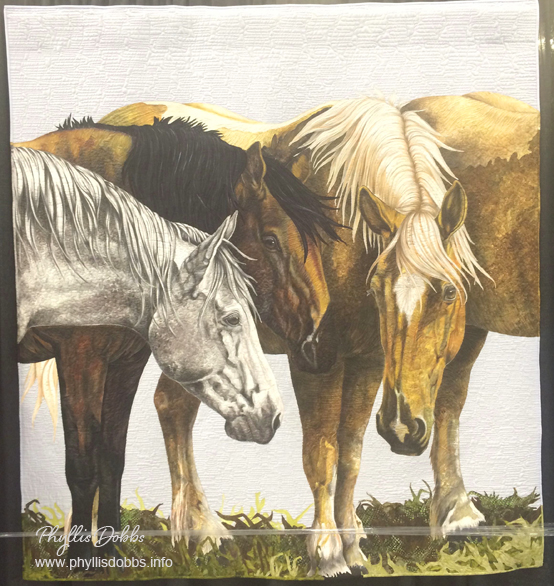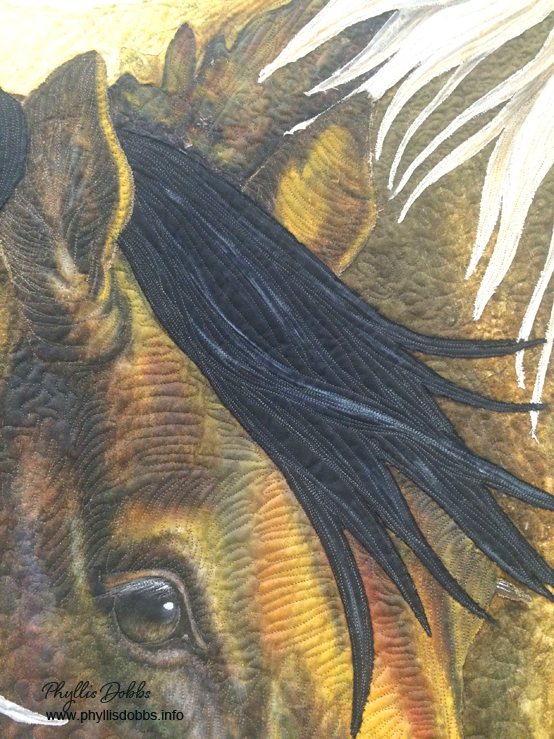 "Bentonville Square" was created by Karen Kielmeyer and the Van Go-Go Art Quilt Group of Bentonville, AK. They decided to do a slice quilt based on a postcard of an original painting by Jane Garrison Davidian of Fayetteville, AK. The techniques used were machine appliquéd and pieced.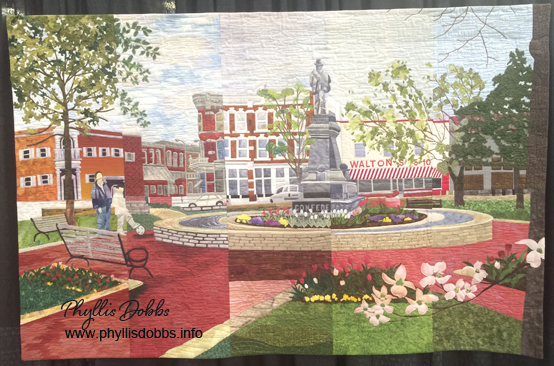 Kathy York, of Austin, TX, created "Suburbs" used techniques of hand-dyed, batiked, discharged, over-dyed, fused appliqué, and machine quilted, and hand quilted. This quilt was inspired by the fires that ravaged Bastrop, TX in 2011. New houses were build with each unit individualized by color and pattern.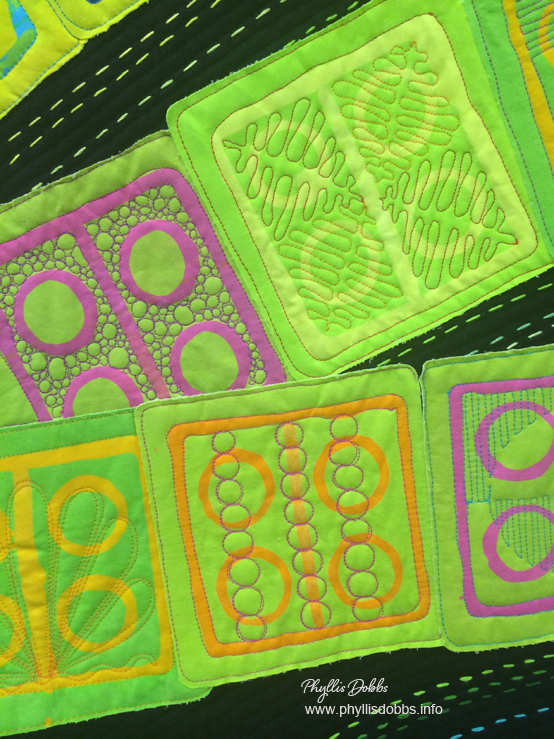 "Bohemian III Rain" is third in a series "Rain" by Sandra Peterson of Muncie, IN.  The technique used were machine pieced, foundation pieced, hand appliquéd, and hand quilted. She wanted to create a three-dimensional design using the series' original fractal wheels, and to develop a technique for curved foundation piecing. The motif design answer was umbrellas.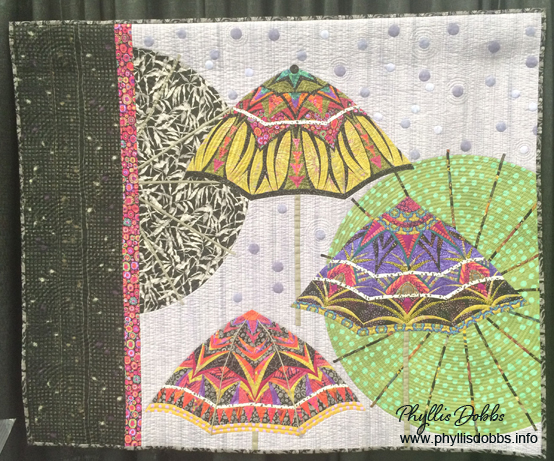 Mary Ann Hildebrand of Comfort, TX, created the "Japanese Tea Garden" quilt and used the techniques of fused appliqué, free-motion quilted, threadpainted, painted and penciled. The Japanese Tea Garden, built in an abandoned stone quarry in San Antonia, TX around 1910, was the inspiration for this quilt.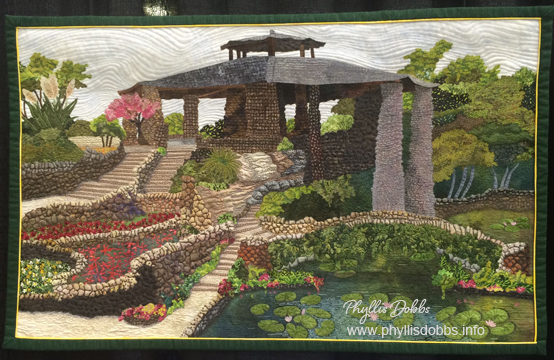 "Born Free" quilt is by Denise Sargo of Sydney, New South Wales, Australia. The techniques used were appliquéd, burned, hand-embroidered, inked, dyed, and machine quilted. The quilt is to portray the kind of animals, the proud, fierce-looking lion, that is vulnerable due to the loss and destruction of habitat.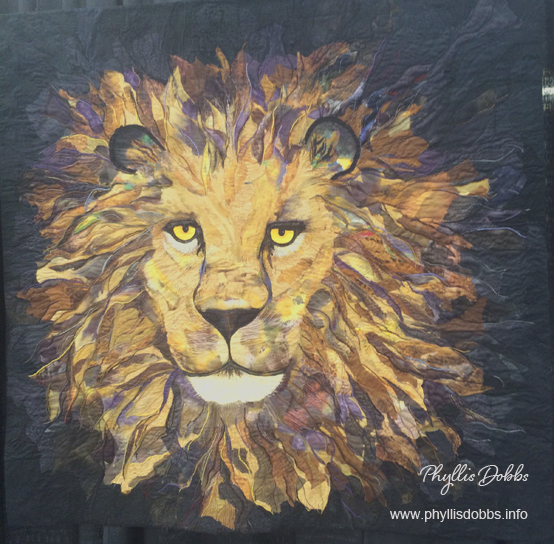 "Moody Beach, Maine, 1957" is the subject of this quilt by Margot McDonnell of Tempe, AZ.  The techniques were fused, machine appliquéd and quilted, and painted. This original design was inspired by a vintage non-professional black and white snapshot.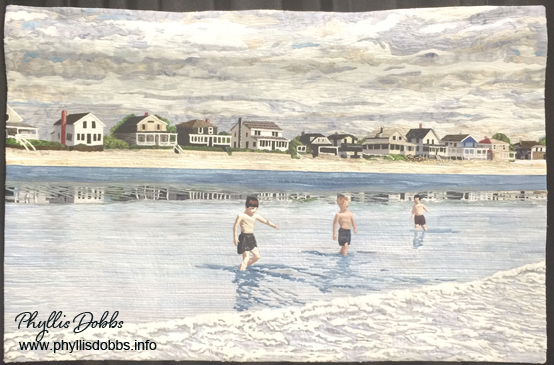 "Sunflower Pilgrimage" by Susan Bianchi of Saratoga, CA, used the techniques of fused, couched, machine and hand-quilted. She was inspired by Annie Liebovitz's photography technique of overlapping several photographs to make one imperfect but complete image.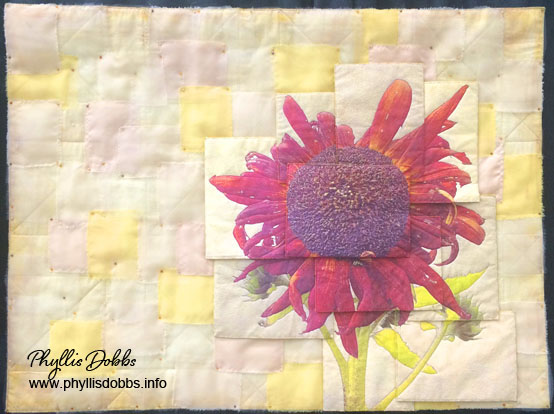 "Rhythm & Roses" was created by Karen Echmeier of Kent CT, and used the techniques of topstitch-pieced, couched and hand-beaded. This quilt is from her book Layered Waves, and is part of a series of quilts with the theme of "Finding Center" to stay focused and maintain balance with the rhythm of life.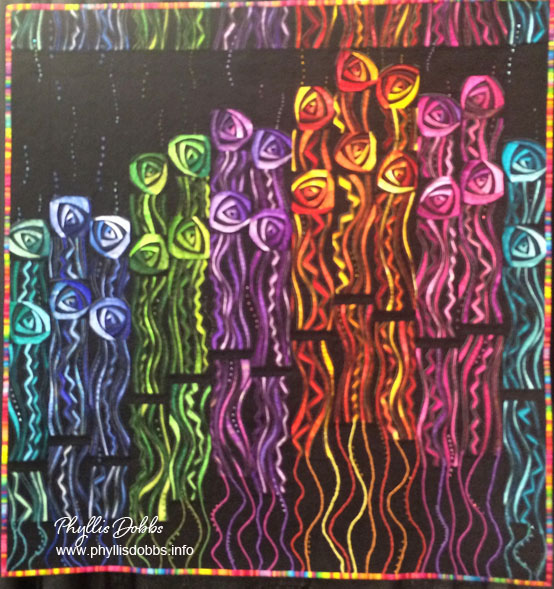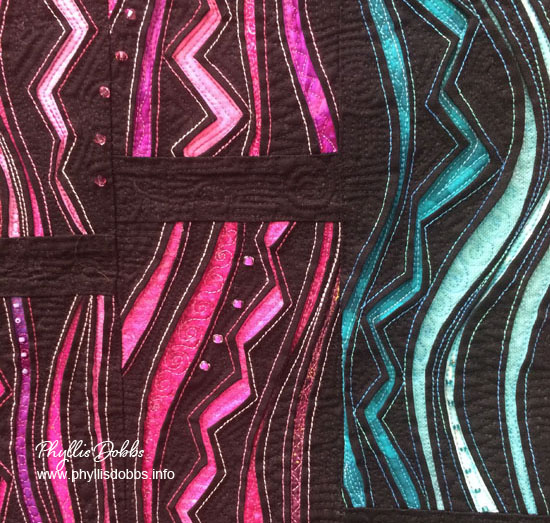 Marina Landi and Maria Lucia Azara of Sao Paulo, Brazil, used techniques of appliquéd and quilted to create "Summer Wind".  A painting by Anna Bocek inspired them to dye silk and form the quilt with a great number of colors and shades and to reproduce the painting's hair movement.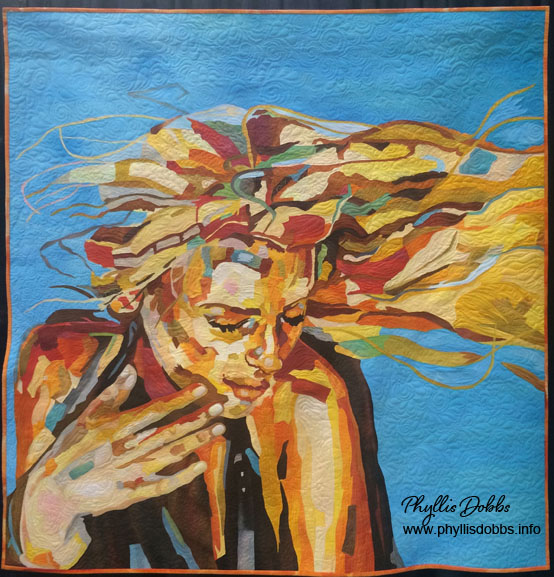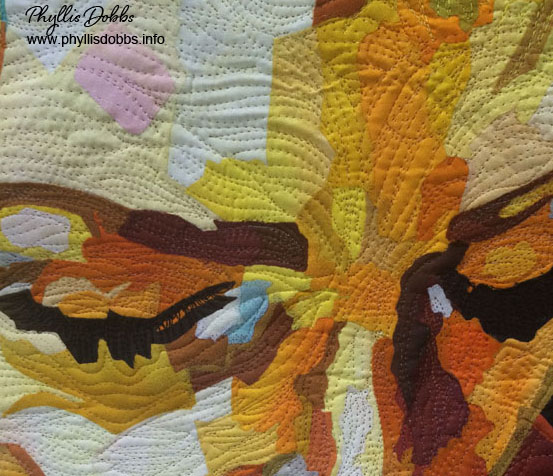 "Thunderstorm" by Brigette Morgenroth of Kassel, Germany, used the techniques of paper-pieced and hand quilted to represent the dark sky, pouring rain and the blue, green, orange and yellow umbrellas. The quilt is made with hand-dyed cotton and the elegant curves of the Twisted Log Cabin block.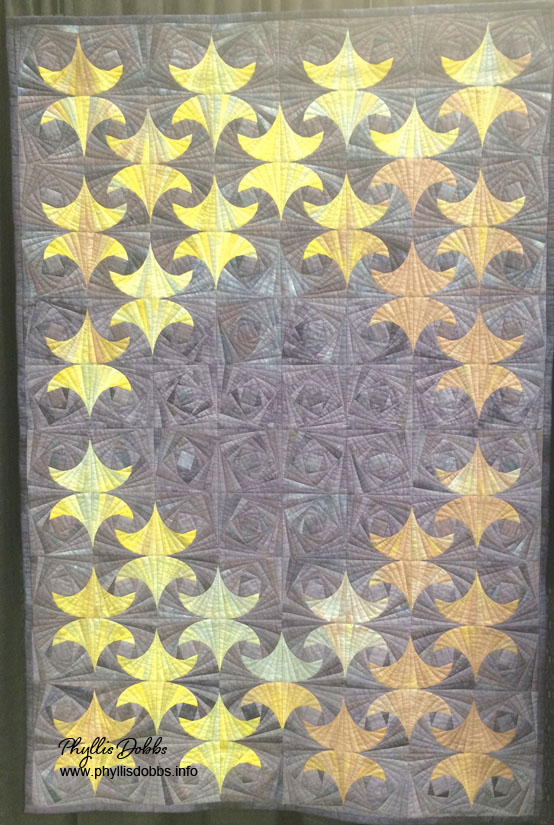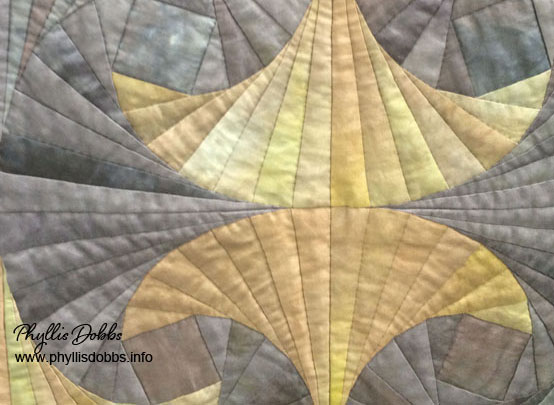 "Prince Charming's Shoe Sale" is by Pam Rubert of Springfield, MO and used the techniques of hand-dyed and stitched. This quilt is a contemporary version of Cinderella with her and her stepsisters as modern women who drove to the Charming Shoe Store in their own pumpkin cars.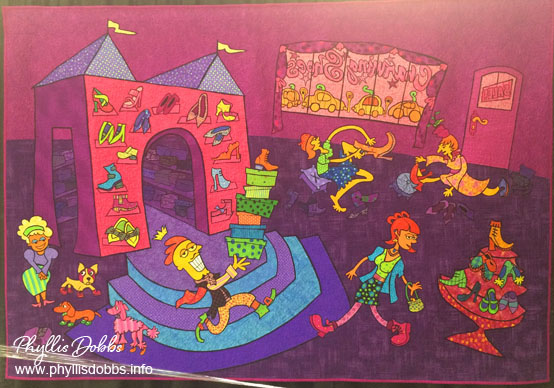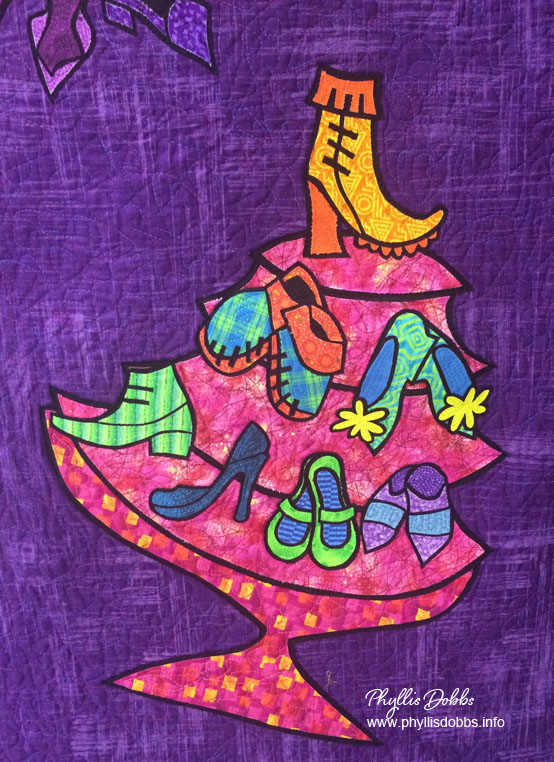 "Furrealizm…Dali Has Gone to the Dogs" is by Pauline Salzman of Treasure Island, FL. The techniques used were fused and appliquéd. The design was inspired by Salvador Dali's "The Weaning of Furniture".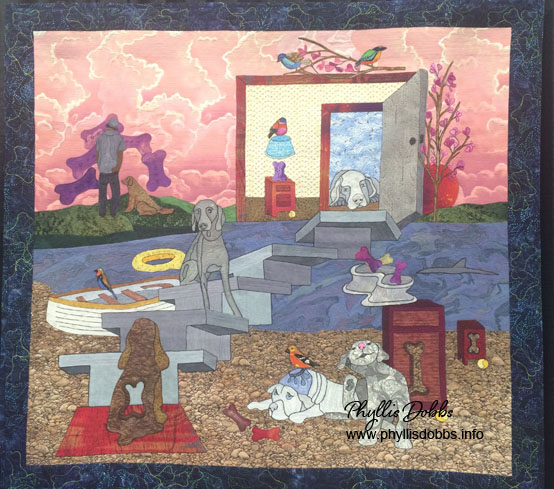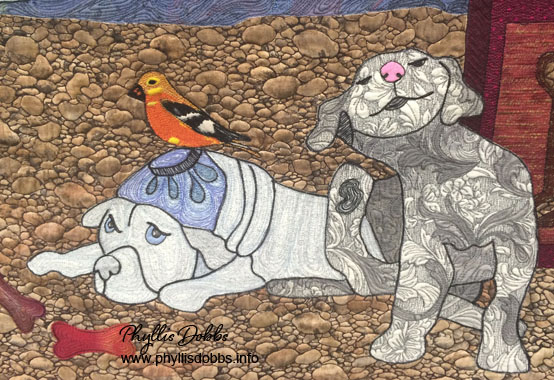 Quilt Market is always more fun in a vibrant city such as Minneapolis with a dynamic downtown area. This city was home of the iconic Mary Tyler Moore show. This statue is at the spot where she tossed her hat in the air that was shown at the beginning of each show.  In researching, I discovered that this shot was ranked as the second greatest moment in 1970's television.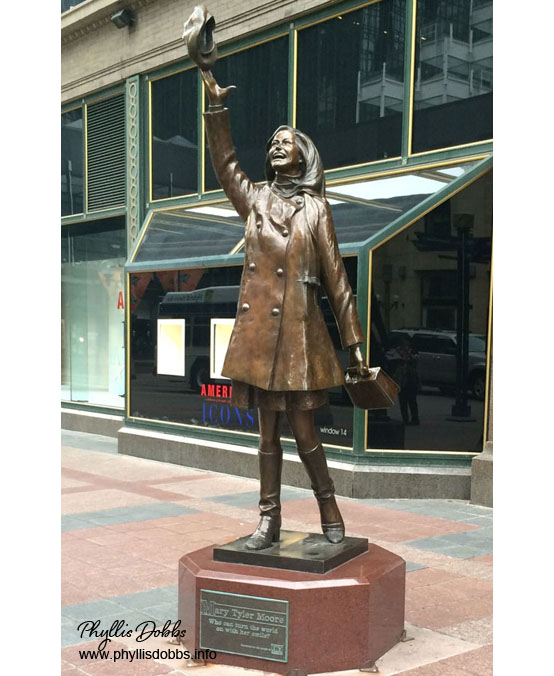 I hope that you enjoyed seeing some of the beautiful quilts from market. I apologize for the quality of some of these photos – the overhead lighting of a convention center is not always conducive to good quality photographs and accurate color.
It's always a joy and delight to walk among all the quilts displayed during this show and I am already looking forward to next one.
Phyllis