Make an easy Halloween Basket to hold candy for trick-or-treaters.  All is takes is a basket to decorate (I found this one at Goodwill for $1) and a few supplies.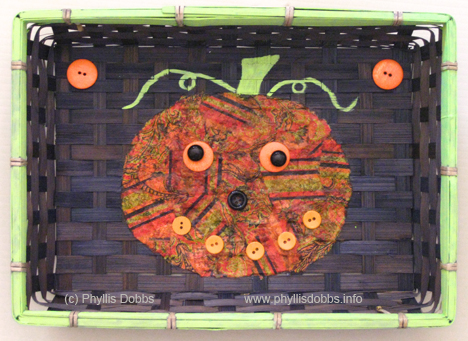 The pumpkin was created with a paper napkin torn into pieces then decoupaged with Mod Podge.
Supplies –
Basket
Mod Podge
Assorted orange and black buttons
Green Paint (Plaid Folk Art)
Paper Napkin or other orange pattern paper
Paint brushes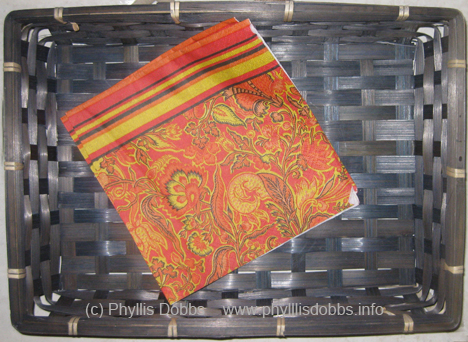 I found these gorgeous paper napkins at Tuesday Morning.  They are the perfect colors for Halloween and the fall season.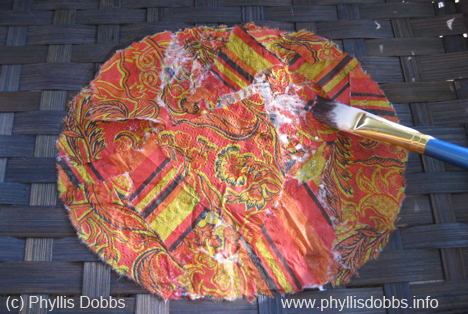 After drawing pumpkin shape on the basket, I tore the napkins into assorted sizes and shapes, with curved edges on some to loosely fit the curved edge of the pumpkin. Then I applied Mod Podge with a brush to the basket inside the pumpkin area, a section at a time.  I added the pieces of torn napkin on to the area with the Mod Podge, overlapping pieces and fitting the curved edges along the outside edge of the pumpkin.
After filing the pumpkin and I keep adding the paper pieces so that there were 2 layers of paper for the pumpkin.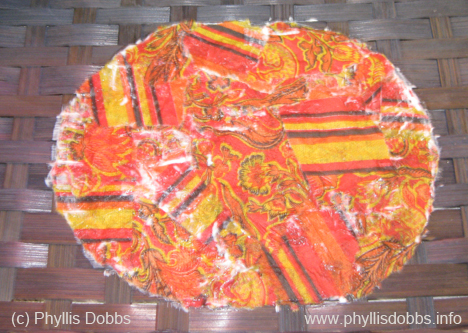 When all the napkin pieces were in place, I applied a final coat of Mod Podge on the top of the pumpkin to seal the paper.
After the pumpkin dried, I painted the stem and vine as well as around the rim of the basket.  I glued buttons for eyes with smaller round black buttons on larger orange buttons.  A black button was used for the nose and a row of small orange buttons for the mouth.  A large orange button was glued in the top corners.
I wish you a boo-dashious Halloween.  Please check back – I'm working on several more crafty and sewing items for Halloween!
Phyllis